Gosh Creative Arts Camp
2020 marks the first-ever collaboration between The Alliance Cultural Foundation (ACF) and Gosh Foundation in the twelfth Gosh Creative Arts Camp. Initiated by Sylvia Chang, renowned actress and director who is founder of the Gosh Foundation, this year's camp was held in August at the Junyi School of Innovation recruiting in total 60 senior high school students from across Taiwan who have a passion for performing arts. The 2020 theme, "I know everything, but…" was conceived to bring awareness that while in an era where the internet and wireless internet devices has enabled instant access to information, people seem to know everything yet none at all. Through music, dance and drama the camp aims to inspire true self-discovery in both campers and volunteers. Held for the first time in Taitung, local elements and resources were vastly integrated into the camp. Volunteers, who were once campers and are now pursuing performing arts majors, led and mentored new campers while learning leadership and organizational skills. The eight-day, seven-night camp closed with a final performance. Read more.
The Alliance Cultural Foundation:
Huatung Cultural Sustainability Forum

The 2020 Huatung Cultural Sustainability Forum took place between 11-12 September in Changbin, Taitung. Participants included alumni of the Hawaii Cultural Sustainability Educational Tour and Asian Executive Management Program as well as long-term collaborators of ACF in the Changbin and Fengbin Townships. At the forum, participants shared a follow-up from the previous gathering in September 2019 on their analysis of the current situations in their villages in regards to its education, return migration and elder care. ACF Chair Stanley Yen spoke his insights on the world, Taiwan and Huatung speaking on global change, the social and political situation in Taiwan and Huatung's growth in correlation to the global pandemic. On the final day, ACF organized visits to B&Bs, restaurants, and art studios in the area in effort to connect the two parties.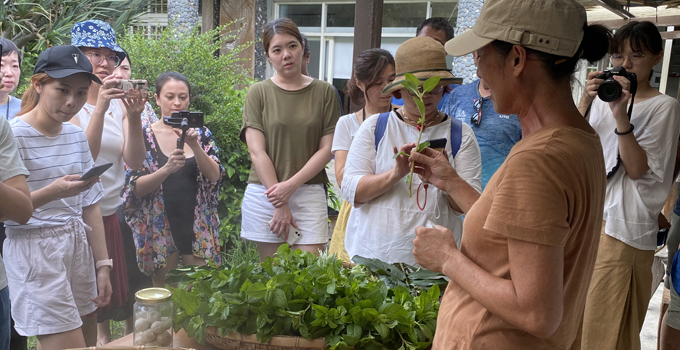 The Alliance Cultural Foundation:
Changbin-Fengbin FAM Trip

Co-organized by ACF, the East Coast National Scenic Area and the Association of Creative Economy Taiwan, the Changbin-Fengbin FAM trip took place between 2-3 September hosting arts and culture journalists as well as travel agent representatives. With a group of 17, they stayed a total of three-days and two-nights focusing on experiencing local arts and culture. The group considered the potentials of the Changbin and Fengbin townships, as well as shared ideas on how to showcase products to shop owners; they agreed that the unique indigenous products have high potential in the market. Following the trip, nearly 30 news coverages were produced. ACF hopes that through the coverages, more people will be inspired to visit and experience the life and artistic charm of Changbin and Fengbin.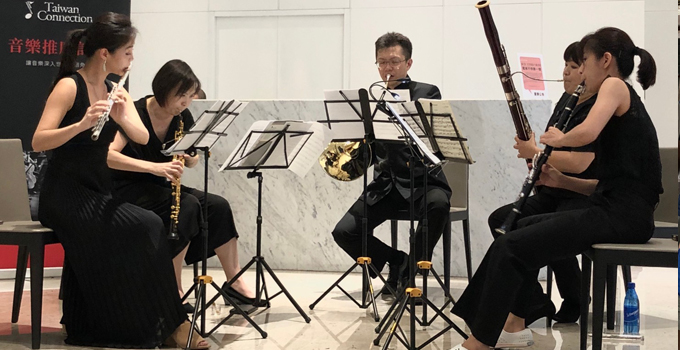 Taiwan Connection:
Music Salon

Over the years, Taiwan Connection (TC) has conducted small-scale concerts performing in companies in hopes to bring classical music into the lives of those who seldom step foot into the concert hall. 3rd September, Trio d'Anches Sen and Wind Quintet – a newly formed group comprised of Trio d'Anches Sen members, a flutist and hornist, performed at the headquarters of Reliable Source Industrial Co., Ltd. Pieces selected belonged to the 18th to 20th century covering classical to jazz and contemporary dance music. Through the performance and talk describing each of the pieces, the audience felt they time traveled from an 18th century banquet to a 20th century jazz club.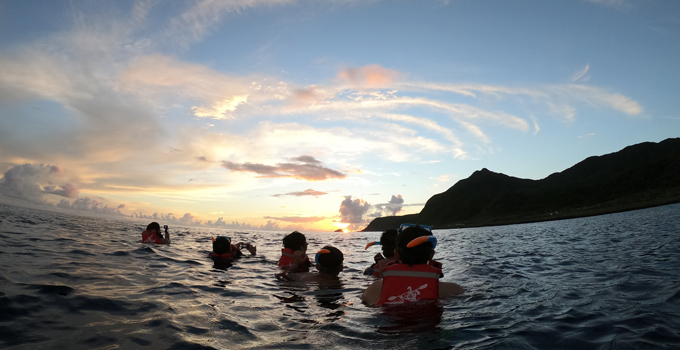 Junyi School of Innovation:
Water Sports Program

11-12 September, 11th graders of Junyi School of Innovation's Water Sports Program took a field trip to Orchid Island. Students went diving to see the coral reef, they climbed the Sheng Mountain (聖山) to study the forest and forest wood, learned the history of Orchid Island's kayak culture as well as the connection between the Yami tribe and the sea through selected articles. Junyi students also had the opportunity to converse with Orchid Island High School students to discuss literature on the seas gaining a deeper sense of understanding and appreciation for Orchid Island and its culture.
The Water Sports Program, part of Junyi's Outdoor Education Program, designs excursions to nurture humility and cultural value.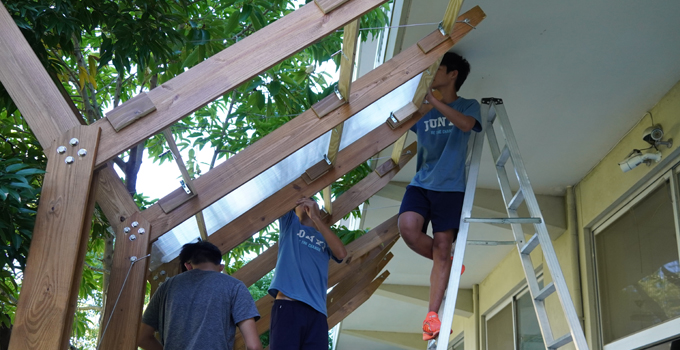 Junyi School of Innovation:
Green & Sustainable Architecture Program

Tuesday and Wednesday afternoons, Junyi School of Innovation's 11th graders step outside of the classrooms to work on their Green and Sustainable Architecture projects. Projects predominantly involve the improvement of campus environment and design. The project at hand was the constructing of rooves to shield in total three-outdoor handwashing stations from rain.
Last semester, students learned to identify probable projects of improvement on campus; they measured, drew concept models, considered safety measures, and proposed projects to the teacher. In the concept models they would add artistic elements and choose sustainable materials. Through campus projects, students not only learn hands-on but are also nurtured into thinking how to improve their surroundings.