The Alliance Cultural Foundation:
"Stanley Yen & Friends" invites Sakinu Ahronglong & Yun Dai
The special guests of the third episode of ACF's "Stanley Yen & Friends" webinar series was the founder of the Hunter School, Sakinu Ahronglong, and his daughter, Yun Dai, who is a graduate of Junyi School of Innovation. During the interview, Yen expressed how he was impressed by Sakinu, of his non-jus sanguinis redefining the indigenous people's identity based on cultural characters rather than ancestry. Yun Dai shared how her father's perspectives of nature was the inspiration for the topic of her graduation thesis on coexisting with nature.

The audience responded enthusiastically during the Q&A at the end of the webinar. In response to the question of how to promote the "hunter spirit", Sakinu replied, "People tend to think hunting is about killing, but in fact, hunters have great respect for the environment and life; they have a philosophical view of nature... We are ecological balancers, not predators."

Integrating the hunter spirit of coexistence with nature into the teachings of the school so that being one with nature, mountain and sea can be in the DNA of our lives has been Sakinu's mission.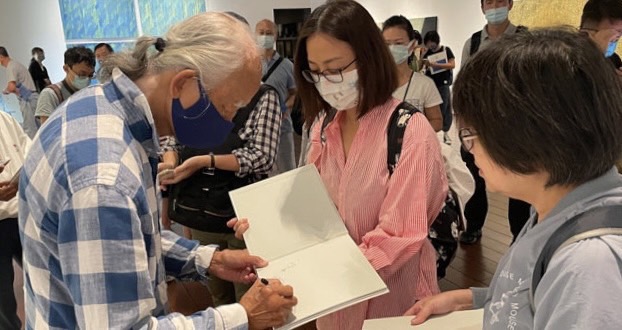 Paul Chiang Arts & Cultural Foundation:
"Paul Chiang: Solo Exhibition" successfully concluded
The 2022 "Paul Chiang: Solo Exhibition" successfully concluded on November 27th. It took place in Taitung Art Museum and was jointly sponsored by the Paul Chiang Arts & Cultural Foundation and ACF. The two-month exhibit was attended by 14,544 visitors. During the same time, the Paul Chiang Art Center was also open and attracted 17,877 visitors. Many of whom came from afar or were repeat visitors. Most notably, many locals enthusiastically recommended the exhibit to friends, families, and tourists.

Looking at the various series of Chiang's work from different periods while visiting the park environment that integrates nature, architecture and art, the audience can feel the elegant and poetic power of Chiang's creations. The Paul Chiang Arts & Cultural Foundation invited Fumio Nanjo, former Director of Mori Art Museum in Japan, to visit the exhibition. The internationally renowned curator commented, "The combination of environmental, natural and environmental issues articulated in Chiang's works is unique and successful. He is an abstract painter but he expresses abstract ideas in a 'figurative' way."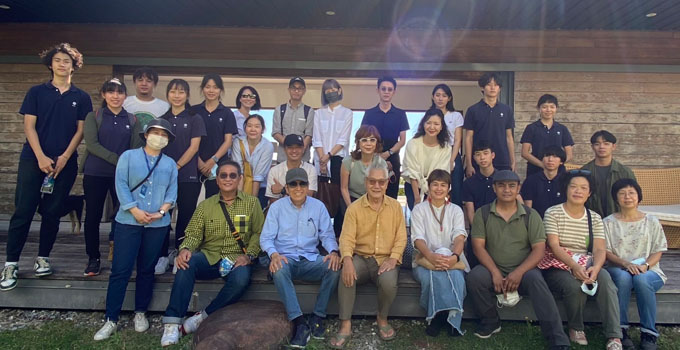 The Alliance Cultural Foundation:
Huatung Cultural Sustainability Forum discuss Green Energy
The Huatung Cultural Sustainability Forum held a gathering on the topic of "Green Energy" on November 13. The goal was to promote sustainability in Huatung through green energy.

The 28 participants came from various disciplines including tribes, retail business, public sector, and architects. Some were faculty, students and alumnus of Junyi's Green & Sustainable Architecture program.

On this day, in addition to visiting green energy buildings that blend into the local landscape and environment, ACF also invited the director of Tai Gium Enterprise Co., Ltd. and chair of Kaisheng Green Energy to share examples of how to utilize renewable energy in daily life. Furthermore, experience sharing on the principles and application of solar power generation helped everyone understand the installing cost of solar panels, and how to couple with Taiwan Power Company. He encourages everyone to adjust their lifestyles to conserve energy and create renewable energy to achieve the goal of environmental sustainability.

The participants also visited the Paul Chiang Art Center and the "Paul Chiang: Solo Exhibition" at the Taitung Art Museum. The visit was hosted by ACF Chair Stanley Yen who highlighted the beauty and artistic energy of Taitung.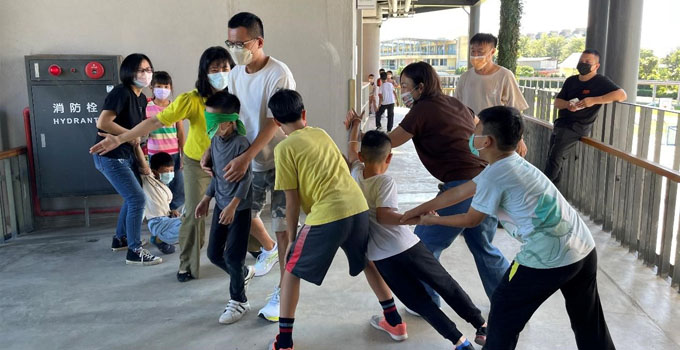 Junyi School of Innovation:
Nurturing harmony between parents, teachers & students
Junyi School of Innovation invited Ci-Xin Waldorf School teachers Yaling Li and Pusheng Tang to facilitate five games with parents, teachers, and students. The games included singing, small group discussions, ball games, "back-to-back communication", and "salmon against the current". The objectives of the games are to demonstrate how parents, teachers and students can come to consensus, and for parents to experience the importance of learning, listening, and speaking patiently.

During the small group discussion, parents shared their educational values and reasons for choosing Junyi. They showed strong support for Junyi's rural schooling and innovative experimental education approach. In closing, the teachers used an enzyme drink as a metaphor to show that good interaction and communication is important and indispensable, and hope that this experience will be dearly remembered.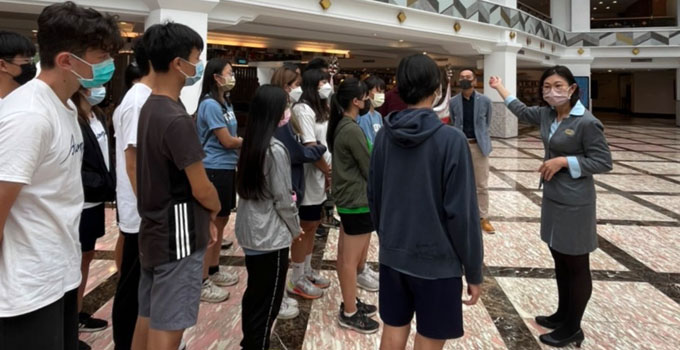 Junyi School of Innovation:
11th graders' field experience in hotel tourism
To close the gap of academic training and industry needs, Junyi arranged a visit to the Environmental Protection Administration-certified eco-friendly hotel, Hotel Royal Chihpen, for 11th graders.

The visit was personally hosted by the general manager, Tsu-Ning Liu. Various department supervisors shared their experience to give the students a deeper understanding of the hospitality industry, its needs and future directions.

"Even if you did not major in hospitality in college, if you have a passion for the service industry, you can still become an excellent hospitality professional," said Liu.

Accompanied by their teachers, this group of children, who are about to enter college, explored their interests and career opportunities, enhanced their hard and soft skills and global vision to prepare themselves to become global contributors.